Around the Area
If you don't know Washington County, you have a treat in store. Winding country roads lead you to hidden spots of beauty and charm. The Battenkill Valley region of the county is especially beautiful with the river winding through hills and fields.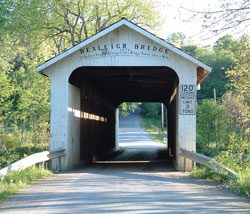 Life in the country is very much in tune with the changing seasons. Very early spring means maple syrup time. Visit a sap house - just minutes away - and purchase the real thing to take home.
A little later in the year, you can fish the famous Battenkill for trout, or go tubing down that lovely river. Take a canoe out on Cossayuna Lake or on the quiet waters of Carter's Pond.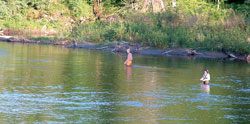 Autumn offers the season's spectacular sights and smells - the abundant harvest, apple picking, cider pressing, the glorious pageant of changing leaves.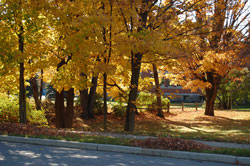 When winter whitens the rounded hills, you'll enjoy skating, skiing (downhill or cross-country), ice fishing. Choose a Christmas tree to take home. Visit Gardenworks for a lovely supply of holiday greenery.
Bed and breakfast at The Bunker Hill Inn will find you wonderfully prepared for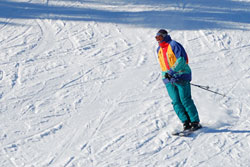 a day or evening outing. The Inn is ideally placed, so that whatever direction you take will be the right one.
A short drive to Salem or Greenwich will take you to gourmet dining, unique shops and art galleries. A bit further east and you are in Vermont to shop for their specialties or visit an antique auction. A short trip south will take you to Cambridge.
A half hour drive from the inn in a westerly direction brings you to Saratoga. The famous horse races, the celebrity concerts, the ballet and music of every variety will attract you to this elegant queen of cities.
Salem boasts The Fort Salem Theater, housed in a beautifully renovated old church, where you'll delight in local and nationally-known talent in the Cabaret or on the Main Stage.
Spring through Fall there are many things to see and do in our region. Visit our farmers' markets,

Maple Tour in March, and the Fiber Tour in late April or early May, The Balloon Festival first weekend in June, the Washington County Fair in August or take the Cheese Tour in September.
To the north, the Adirondack wilderness lures the nature lover. On the way, Glens Falls boasts the Chapman Museum and the Hyde Collection.
There won't be enough days to do and see all you want during your stay at The Bunker Hill Inn. But next time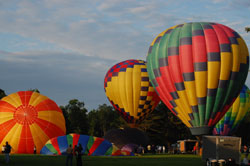 you come it will be like coming home!