Getting to the Bunker Hill Inn
Click Map for Enlarged View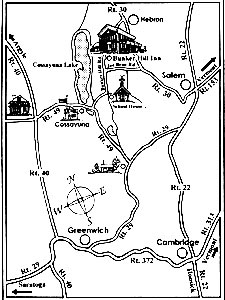 See us on Google Maps.
For reviews of the Inn, visit BedandBreakfast.com
North from Albany, Saratoga Springs and I-87 traveling north
I-87 North to Exit 14. Go 15 miles on Rt. 29 East.
At the traffic circle, left on Rt. 40 North. Go 6 miles.
Right on Rt. 49 (east). Go 4 miles.
Left onto Bunker Hill Rd. Go 1 mile to crossroads at Schoolhouse at a stop sign.
Turn left, continuing on Bunker Hill Road.
Go 1 mile, staying straight onto dirt road.
Bunker Hill Inn is 1st place on right.
South from the Adirondack Region, Glens Falls & I-87 traveling south
Take I-87 South to Exit 17N. Take Rt. 9N to Rt. 197 East (approx. 11.5 miles from exit to Argyle).
Rt. 197 becomes Rt. 40 South. From Argyle, go 3.8 miles.
Turn left onto Rt. 49 (east). Go 4 miles.
Continue from #4 above.
West & Northwest- from points in New England
Massachusetts Turnpike West to NY Rt. 22 (Exit B3)
Go North on Rt. 22 into Salem (approx. 60 miles).
Left at only traffic light in Salem (W. Broadway/Rt. 30).
Go 4 miles, turn left onto Joe Bean Road.
Go 1.5 miles, turn right onto Bunker Hill Road.
Bunker Hill Inn is 1st place on dirt road.